Gettysburg Farmers' Market
Gettysburg Farmers' Market News
We have some more suggestions for your weekend shopping.
Look here:
We have 2 new jams made with Honey Strawberry and Red Raspberry rather than sugar.
 Starting this weekend we will feature a brand new flavor
made with honey Blackberry Lime Jelly.
We also have our own Honey Mustard that is made from scratch.
Made with yellow mustard seed.
It has just enough honey flavor with a bite.
We will have samples of all our new products.
You won't want to see this.
**************************************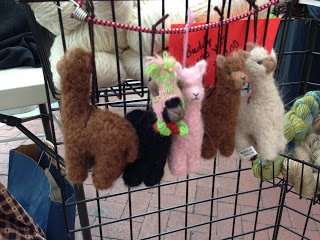 Quarry Critters Alpaca Ranch 
These little guys have become a big hit.
You don't want to miss getting your very own needle felted alpaca
with or without a hat.
We also now offer summer weight alpaca socks.
Fresh raw fiber is available, as a result of some very happy alpacas.
*******************************************
Gettysburg Gardens
Gettysburg Gardens will have native azalea hybrids,
assorted Heuchera and Tiarella for foliage and flower,
and trees and shrubs,
mostly native, selected for suitability in local gardens.
Possibly some Primula sieboldii 'Sakurasoh'.
****************************************
Sheep-in-Hand Farm 
will have a large selection of Heirloom and Standard tomato plants, ready to be planted in your garden.  There will be beautiful hanging baskets for the porch, too.
How to make great herbal iced te
a:
                                                             8 -10 stems (1 bunch)of Dutch mint,
                                                 Lemon balm,
                                                         peppermint or any other fresh herb,
                                         washed
                                           1 qt. water
                                                      1/4 c - 1c. sugar - to your taste
1.   In a 2 quart sauce pan, bring the water to a boil.
2. Remove from heat.
3. Add fresh herbs and stir.
4. Allow to sit for at least 30 minutes - we let ours sit overnight .
5. Remove the herbs.
6. Add the sugar and stir until dissolved.
7. Add 1 quart of cold water or ice and serve.
See Pat at 
Sheep-in-Hand Farm 
 for a selection of tea herbs as well as culinary herbs like chives and oregano.
She even has catnip for your feline friends!
 **********************************************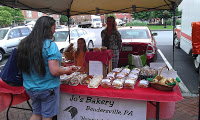 Jo's Bakery
will be bringing Old Fashioned Biscuit Shortcake to go with your fresh strawberries
and Strawberries and Cream muffins made with fresh strawberries.
**********************************************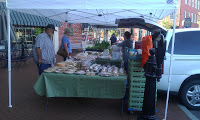 Beeman's Baked Goods
will have Fresh Local Rhubarb Pie,
Zuchinni Bread,
Butter Pecan Cake made with hand cracked Pecans (limited time available)
as well as our usual selections.
***********************************************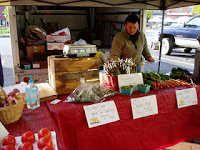 will have homegrown,
first of the season strawberries,
their own custom blend leaf lettuce mix & local asparagus.
***********************************************
Grateful Acres
 should have Asparagus, Kale (3 kinds), Collards, some broccoli and herbs.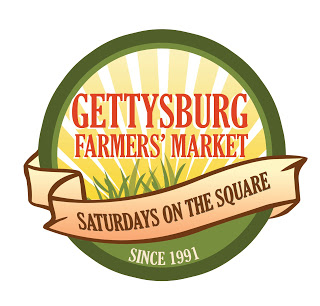 Come shop with us. You'll be glad you did.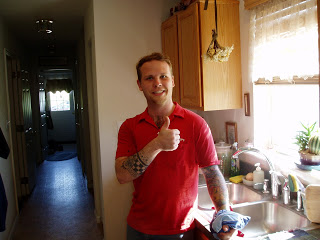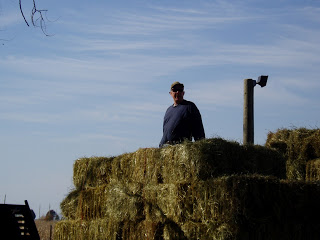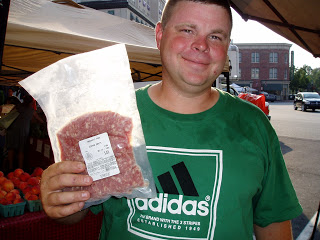 Jul
20 2012
I'm farming and I Grow it…..
Quarry Critters Farmers' Market Magazine 0
I'm Farming and I Grow it…… Come check out what the Gettysburg Farmers' Market has to offer this week. Torchbearer Sauces Kalpana's Fine Soaps and Jewelry  Alpaca felted soap.     Gettysburg Gardens will have a selection of mostly native woody and herbaceous perennials suitable for planting with care even in this heat.   Dawg Gone Bees Honey & Gifts will have a fresh spring honey harvested this week, as well has fall honey, creamed honey a new Apricot jam, honey butter beeswax candles and all other jams and products.    Beads by MR Marianne Kingston makes Unique jewelry - Casual, Chic, Glitzy and Glamorous Private Instruction, Custom
---
Jun
29 2012
Raspberries……..
Quarry Critters Farmers' Market Magazine 0
Raspberries……. Who are those Farmers that sell us the products at the Gettysburg Farmers' Market?                     Well in this new series we will meet the farmers you see and talk too every Saturday morning on the Square.   This week we will be traveling over to Swartz's Pumpkin Patch.  Chris Swartz is our market Treasurer. It's raspberry season!!!!!!  and everyone at the Swartz Family farm knows it…….. You see Chris Swartz on the Market on Lincoln Square outside the Pub in Gettysburg. Chris and Jennifer help a customer at the market Once
---
Jun
21 2012
Check out this week's market………
Quarry Critters Farmers' Market Magazine 2
Here we have some wonderful summer produce and products from your  Gettysburg Farmers' Market Vendors. The market  will be opened Saturday, June 30th  from 7AM until 12 Noon. Please come see us and enjoy our weekly products.  Sheep-in-Hand Farm, this week our Country bouquets will sport daisies and bright blue delpheniums and batchelors' buttons.  We will also be bringing lots of fresh picked herbs: chives, oregano, sage, different mints for refreshing summer drinks, and more. Beemans we will have  muffins, pies and puddings made with Adams County cherries. Also our raspberry pies and puddings will have local fresh- picked berries baked for your
---
Jun
20 2011
What an exciting market.
Beemans Baked Goods Uncategorized 0
We are having a great time at the Gettysburg Farmers Market each Saturday. The weather has been extremely pleasant and it is so interesting to meet the visitors to Gettysburg. This week we had a visitor from Maine that tried a PA whoopie pie, and a visitor from Hawaii that was tickled to find out there really is such a thing as shoofly pie!
---
May
29 2011
end of May
Beemans Baked Goods Uncategorized 0
We have had 4 weeks of market so far this year.  The 21st of May there was no market.   This past week was the most challenging of all.  I like to start the baking early on Friday and finish up in the late afternoon.   Due to a violent wind storm we had no electric for 20 hours which took us into the late afternoon hours on Friday.  We had electric to bake one ovenful while mixing the breads,  then lost electric again.    The baking was mostly finished by 11pm.  The rest was finished right before  it was time to
---
May
27 2011
A few items that you can expect…
admin Uncategorized 0
…at this week's market, in time for your Memorial Day weekend picnic needs! On the Pub Quadrant: -Jo's Bakery will be bringing sticky buns, scones, assorted muffins, cookies, honey wheat, spinach garlic and raisin bread as well as shortcakes. -Swartz's Pumpkin Patch has strawberries to go with Johanna's shortcakes! Chris will also have her local greens, potatoes, apples and more. -PA Pasture Pork will be able to supply you with nitrate free ham steaks great for the grill as well as Canadian Bacon, German Brats, Beer Brats with no antibiotics or hormones. Kevan will be taking orders for whole and
---
May
24 2011
Home-Grown Strawberries!
Hollabaugh Bros Uncategorized 0
Hollabaugh Bros. will have a slew of fresh-picked, local strawberries for you at market this Saturday, as well as all of your Memorial Day Picnic needs! Cantalopes, Watermelon, Fresh Florida Corn, Tomatoes, Greens, and more will be in abundant supply. Be sure to stop by to stock up! Asparagus is also coming down the home stretch, so be sure to enjoy it before it's gone for another season! Have you ever tried grilled asparagus? Just drizzle it with EVOO, season with salt and pepper to taste, and throw it on a grilling plate on the grill. Turn it a
---
Apr
29 2011
Fresh Greens
Swartz's Pumpkin Patch Farmers' Market Magazine 0
From Swartz's Pumpkin Patch: We're cutting the first greens of the season!  Strawberries are blooming nicely and we are anxious for the first ones to ripen.  We look forward to seeing you at market on Saturday!
---
Apr
28 2011
Pa Pasture Pork and Lamb
Pasture Pork Farmers' Market Magazine, Uncategorized 0
Pa Pasture Pork is a family owned farm that was established in 2009. Our farm serves the needs of the conscientious consumer. We are committed to selling pork and lamb meat products that come from animals fed an all natural diet. Their diet is free from hormones and antibiotics. Our pigs and lambs graze peacefully on our farm which is located south of Gettysburg in Adams County, PA. You can purchase our products at two convenient locations. You can visit us on Saturday mornings as part of the Gettysburg Farmer's Market. Our stand is located on the Pub quadrant of
---
Apr
26 2011
It's Asparagus Season!
Hollabaugh Bros Farmers' Market Magazine 0
Hollabaugh Brothers is growing over an acre of asparagus, and we're cutting it fresh daily! We'll be bringing plenty to Farmers' Market each week for the next few weeks, but if you'd like to order a larger quantity, we'd be happy to bring it to market for you! Here are some simple instructions for freezing asparagus, which will allow you to enjoy this treat all winter long, too! Wash your asparagus. Bring a tall pot of water to a boil. Put your asparagus in the pot, tips up, and cover the pot with a lid. Steam for approximately two minutes,
---